A prestigious revelation award to Guo He sauce aroma baijiu at the Spirits Selection 2020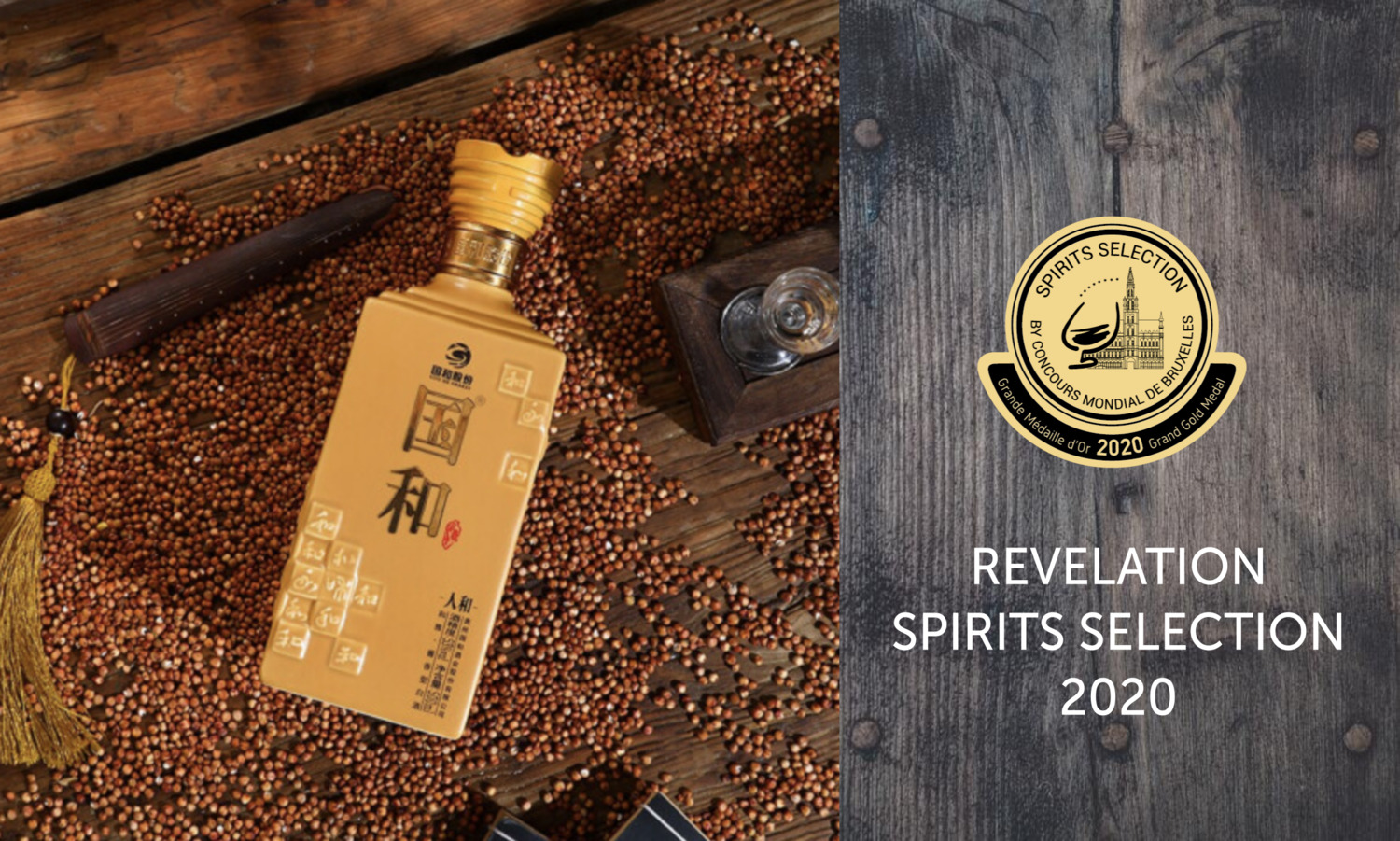 In the 2020 edition of Spirits Selection, 300 baijius were evaluated by the international panel of tasters. And it is the baijiu Guo Hejiu Ren He, belonging to the category of sauce aromas, which obtained a prestigious Revelation and Grand Gold Medal of the contest.
For readers who have not had a chance to taste this Revelation Trophy winner, the color of the spirit is pale yellow, a sign of long ageing that often softens the hard edge many novice drinkers find Baijiu to be. On nose, aromas reminiscent of soy sauce, toasted bean curds, and cooked barley are immediately distinctive, perfectly demonstrates the typical sauce aroma Baijiu without being too intense. The extremely high alcohol level (53% abv) however, is harmoniously integrated with the palate, leaving a slightly warming, layered and savory after taste.
When being asked about the secrets of producing one of the most balanced Baijiu in China, Guo He answers humbly, just like most of the Chinese enterprises, that the charm of the spirit comes from the distiller's strict practice in sauce aroma Baijiu making, with full and unturned dedication. According to Guo He, "sauce aroma no question is on heat right now, so many new comers and capitals are flooding into the industry hoping to get a slice of the pie. However, sauce aroma Baijiu involves complicated professional knowhows, and a large spirit stock…all of these require time and good management. And this, we believe is what makes Guo He a leading player in the field."
Founded in 1983, Guizhou Guo He Distillery is located within the core center of the Moutai Town in Guizhou Province, on the southeast bank of the Chishui River, a geographical 'pre-requisite' for sauce aroma Baijiu production thanks to the shinning glory of the Kweichou Moutai, known as China's 'National liquor'. Strict selection of only the best red sorghums (called 'hongyingzi' in Chinese), impeccable craftmanship of the 'Qu' making (note: a saccharifying agent made mainly using barley, wheat and green peas), laborious distillations, at least 5 years of storage, and elaborate blending process, Guo He determines to preserve and represent the true essence of the traditional sauce aroma Baijiu in China.
So when it was announced that Guo He has won a much-coveted Revelation Trophy from the Spirits Selection, the news came both as a surprise and an affirmation to the distillery .
The medal has encouraged the company to take on a more international stance in their following marketing strategies. For instance, in April, May, and August this year, Guo He takes on a full participation in a series of cultural exchange programs and high level Diplomatic events, hoping to open a window for more non-Chinese drinkers to get to know about Baijiu.
Despite the negative impact of the pandemics, 2021 turns out to be a crucial year for Guo He as the distillery launches an aggressive expansion on its distribution networks in cities and provinces such as Beijing, Shanghai, Guangdong, Henan, Hainan, Sichuan, Hunan, and Guangxi.
The business ambition lies behind Guo He 5-year plan: to reach a sales revenue of 1 billion RMB and a production volume of over 5000 tons, making Guo He a true star in the category of sauce aroma Baijiu.
Mia Zhang