Priscilla Occhipinti: Tuscan grappa's first female Master Distiller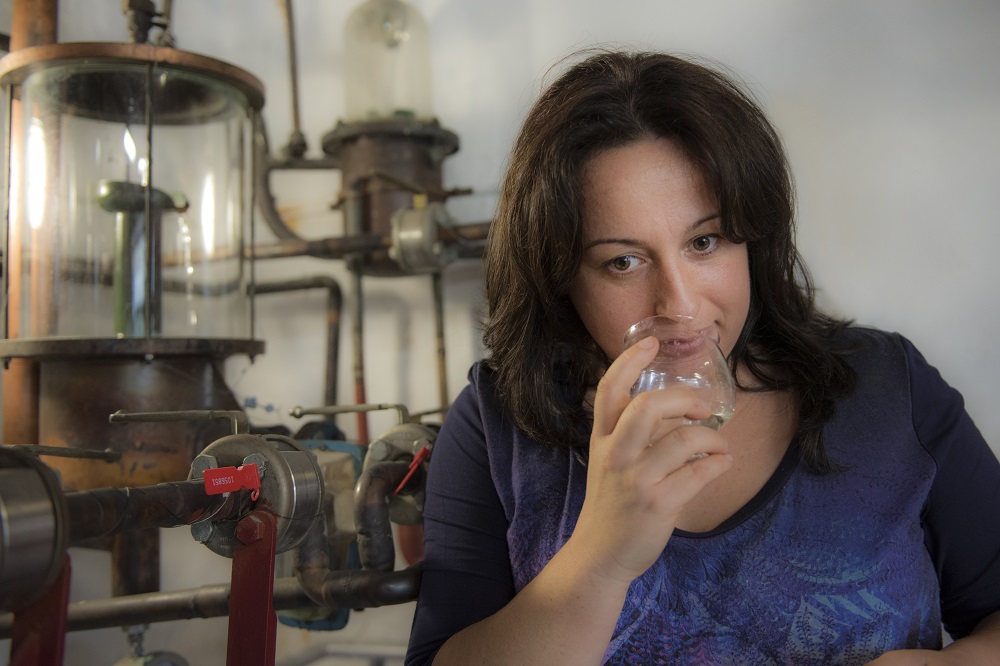 Being Nannoni grappa's first female Master Distiller was never Priscilla Occhipinti's original intention. Growing up, she wanted to become a doctor, like her mother, but some encounters can have a decisive role on your life.
"I met Gioacchino Nannoni because he was a friend of my father's.  Gioacchino founded the eponymous distillery, taking over the Val d'Ombrone distillery in Maremma (Tuscany) in 1973, at the age of 37, after dedicating the first part of his life to manufacturing and maintaining copper stills."
At that time, Tuscany was already producing very good wines that were rich in tannins and aromas: Chianti, Brunello and Nobile for instance. Nannoni knew that the pomace (vinaccia in Italian) left over from these magnificent wines had enormous potential for producing excellent grappas.  His dream was to produce some exquisite 'estate grappas' and craft a product encapsulating the land. And that's exactly what he did. Nannoni is the driving force behind recognition of these estate grappas.
Occhipinti continues: "At first, Gioacchino had heated debates with the wine producers because at that time in Tuscany, there was no veneration of grappa and "vinaccia" was totally mishandled by being left out in the sun. But things subsequently changed. Some of them started to trust him, and he made good allies with fantastic vineyard estates. For the rest of his life, he fought to have the quality of these "estate grappas", produced by small artisans, recognized so that they would be differentiated from the grappas produced in industrial columns from preserved must."
Exploration and passion
Priscilla describes how a question by Nannoni led to her ultimate decision.
"When I was younger, we used to have regular parties at the distillery with my family. At that time, my ambition was to become a doctor like my mother. When I was 15-16 years old, I started to come to the distillery more often and Gioacchino asked me if I had thought about studying oenology. His dream, aside from producing excellent quality grappas, had always been to share his expertise with others".
"As a child, I remember the discussions between my father, grandfather and the ever-present friends about the characteristics of wine at our table. These discussions made me curious. But it was really when I started to talk to Gioacchino Nanonni about wine, distillates and the contents of a bottle of grappa that my curiosity about the whole issue emerged. I was awe-struck by this industry. So I started to learn French so that I could study oenology in Bordeaux. Unfortunately, I came from a classical high school and this path did not give me access to more scientific courses. So I went to an Italian university to study oenology".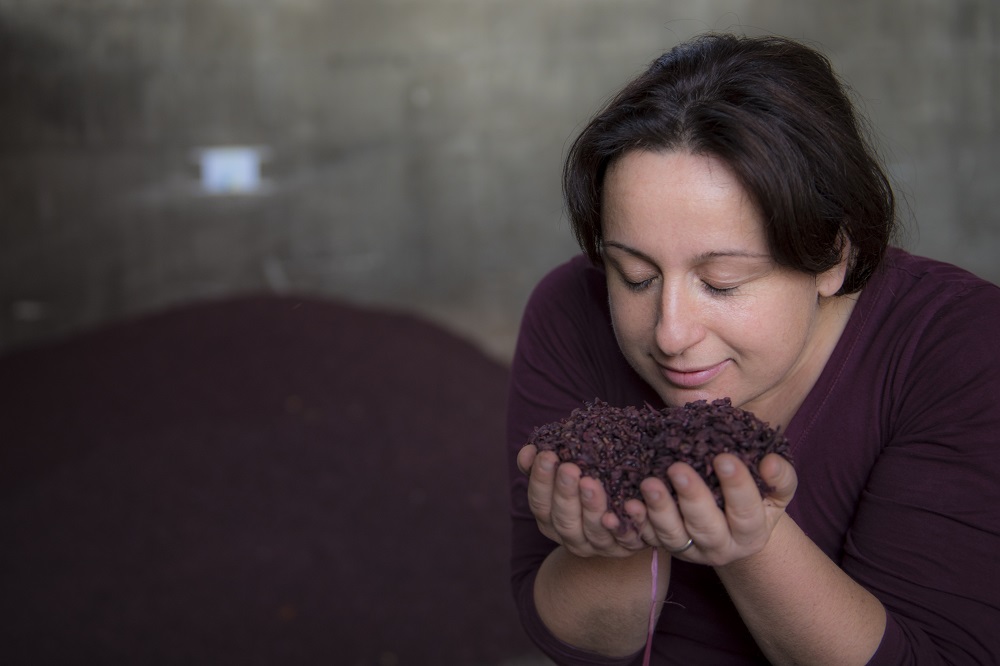 Following in the Master's footsteps
"I started distilling with Gioacchino, and later he asked me if I wanted to take over the distillery. I did so, but he continued to support me until he passed away. I have been distilling for 25 years now, and I am very happy that we have been able to continue his work. His teaching was extremely valuable. He built his still with his own hands, he taught me the alchemy of distillation.  I spent a lot of time with him studying how the still worked, repairing it, modifying it, listening to its humming and finding the right settings. I was struck by his maniacal search for perfection".
When he started, he produced "grappa di fattoria" on a contract basis, much like a traveling distiller. Producers would deliver their pomace for distillation and take back their grappa so that they could market it. Today, 90% of the distillery's work is custom distilling, for example for Montevertine, Ornellaia, Ferragamo and Altesino. The remaining 10% is bought-in pomace from which the Nannoni distillery markets the resultant grappa under its brand.
Carving out her own path
"I work essentially with fresh pomace, what we call "vinaccia fresca", which is why I do not distill after November 15. I could work with pomace that is frozen or preserved in a nitrogen atmosphere, but this changes the aromatic profiles. Every year I choose who I work with, depending on the time I have available because I am the only person distilling. I establish my program. If, for example, a producer has 3 different types of pomace, I can tell him that I will only take two types out of the three this year. Pomace is a very fragile product, I have to distill it as quickly as possible so as to keep its qualities intact."
The distillery is equipped with three discontinuous stills, using direct or indirect steam, with a capacity of 1,500 to 2,000 kg of pomace. They work at normal pressure. She adds: "I cut the heads and tails manually. There are slight differences between the 3 devices, and I reserve one or the other according to the liquid load (wine) of the pomace. One works better for very "liquid" pomace while another works better on drier pomace. But at the end of the day, there is little difference.  On average, I get out 100 to 150 l of alcohol at 42% ABV for 1,000 kg of pomace."
An amazing woman, Occhipinti is not short of ideas. She has expanded her repertoire from grappa and brandy to gin, vermouth, bitter and whisky. Seven years ago, she bought herself a small 200-liter still.
"My master had taught me how to distill grappa and brandy, but no one had taught me how to use plants to make gin, amaro, bitter…. So I got into the game. My husband has a passion for botany and he showed me many plants growing naturally in the nearby surroundings of the distillery. So I created this first range of gin called "GinGillo", which means a little game. Because for me it was a game."
She adds: "Many people asked me to create their gin: I received requests from Italy, the Canary Islands and France.  I went from being a distiller to creating recipes for spirits. I developed a bitter during Covid, a time when I didn't know what to do. I just came out with a Vermouth, and recently, I launched my first bottles of whisky."
Le Costellazioni – GinGillo (GinGillo Constellations) is a series of 12 gins, one for every zodiac sign. We will be writing a short article to drill down deeper into this project, which I found brilliant.
In July, the distillery will celebrate its 50th anniversary. Happy Birthday!
Nannoni grappas have been awarded many times at Spirits Selection. We recommend you taste this particular one.
Thierry Heins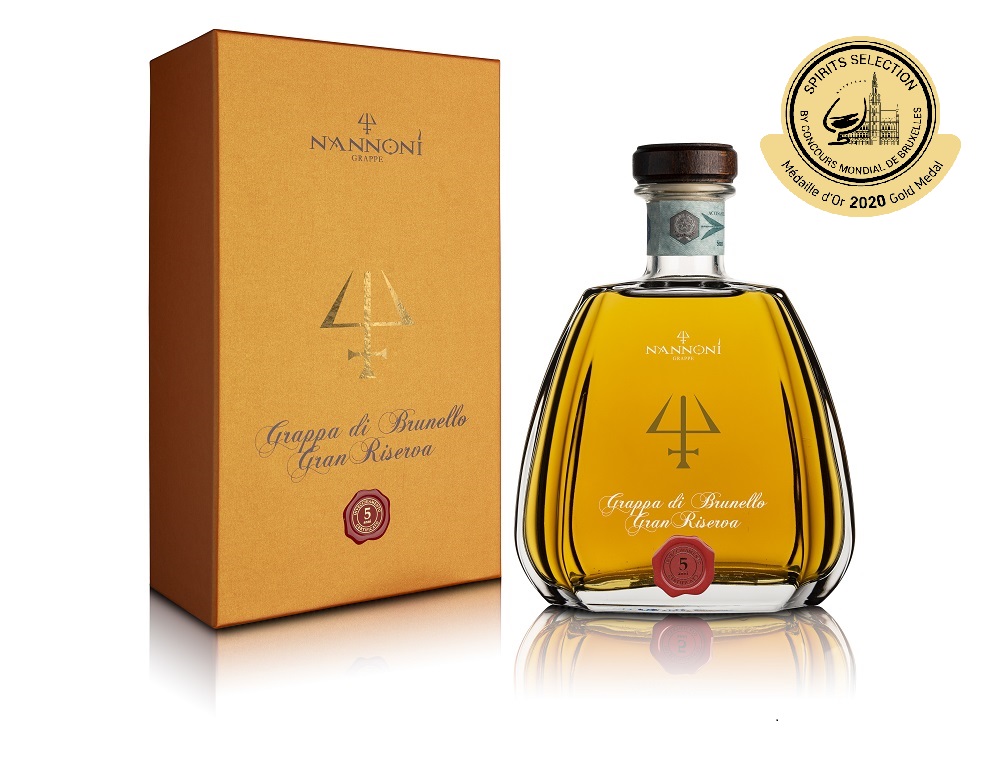 Grappa di Brunello Riserva 5 anni 2020 – Gold Medal 2020
Appearance: Beautiful golden color.
Nose: Good, intense nose with dried fruits and sweet spice notes. Fresh feeling with a pleasant mineral touch, leather, hay and straw. Lively, charming… Very promising!
Palate: Upfront and clear mouthfeel, with nicely restrained wood influence. Very nice complexity and structure. Notes of dried fruits, peach and sweet cedar wood. Some smoky hints. Very enjoyable.
Overall: A very well-crafted grappa, excellently assembled. Beautifully balanced, with a complex and harmonious structure. Rich and warm, with well-integrated alcohol and wood. Very nice!