What is grappa ? Part 5 – Insight and Guidelines for Evaluation and Appreciation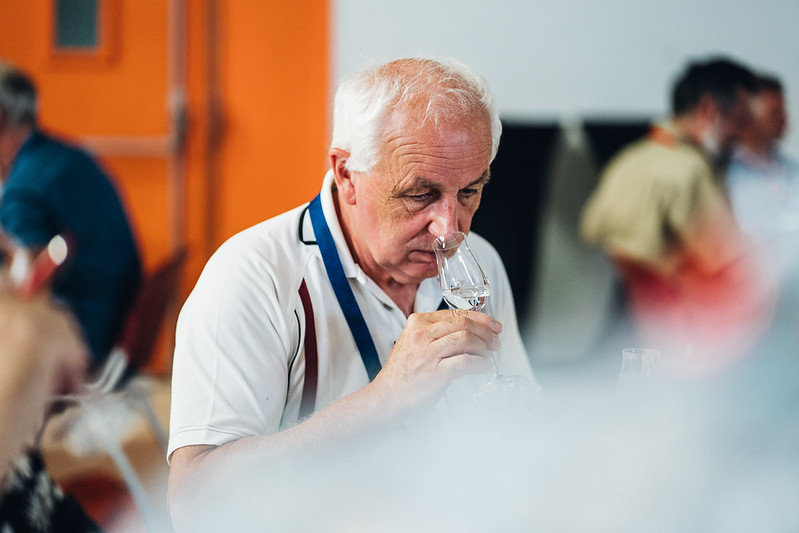 A conversation with Bruno Pilzer, Master Grappa Distiller.
I had the pleasure of speaking with Master Grappa Distiller Bruno Pilzer, owner of the renowned Pilzer Distillery located in Trentino Alto Adige, chairman of the "Istituto Italiano Grappa Trentino", and a judge at Spirits Selection. He will be sharing valuable insight into the evaluation and appreciation of grappa.
Thierry Heins: Thank-you for joining us, Bruno. Organizing a professional spirits competition, such as Spirits Selection by Concours Mondial de Bruxelles, is quite a task. Could you tell us about the responsibility you feel towards the producers who enter their spirits?
Bruno Pilzer: It's my pleasure to be here. Thank-you for having me. Absolutely. We are fully aware of the significant responsibility we have towards the producers who trust us with their entries. The task is challenging due to the diverse categories involved and the reliance on our senses and experience. No judge is perfect; we are continually learning and improving our skills.
T.H: To ensure its professionalism, Spirits Selection focuses on the continuous education of its panel members. Can you tell us more about the "Sensory Guidelines for Spirits" manual and its role in the evaluation process?
B.P: Certainly. Spirits Selection provides panel members with a valuable resource called "Sensory Guidelines for Spirits." The manual describes common characteristics, frequently encountered flaws and evolving trends for each spirits category. It serves as a reference point for panel members, particularly when evaluating entries in less familiar categories. Access to this insight enhances the professionalism of the evaluation process.
T.H: Turning our attention specifically to grappa, the 25th Spirits Selection will take place in Veneto, Italy, in a region known for its grappa. Can you provide some sensory information to help judges appreciate and select the finest grappa?
B.P: Certainly. Grappa's quality is influenced by factors such as the varieties of grapes used, the storage conditions of the pomace, and the skill of the distiller. Evaluating grappa requires concentration and an ability to recognize its olfactory and flavor complexity, as well as any flaws. Trusting one's sense of smell and re-tasting if necessary is crucial. It's important to remember the origin of the grape and pomace, as well as the complexity of the raw material.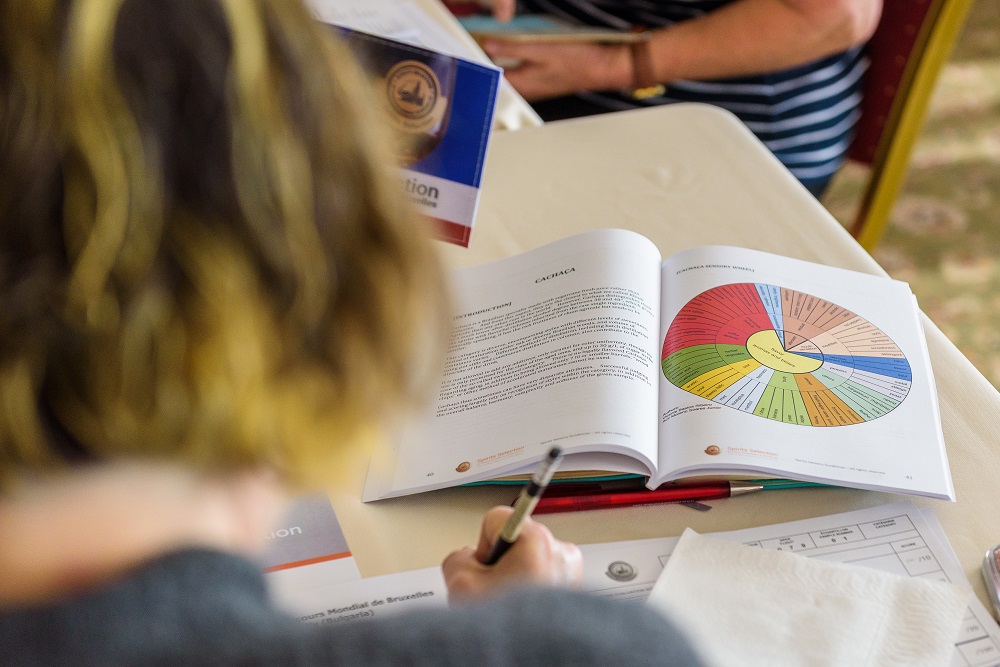 Picture Credit @Spiritsselection
T.H: Let's delve deeper into the sensory aspects of grappa. Could you help us differentiate between white or young grappa and aged grappa, and also explore the different aromas associated with various grape varieties?
B.P: Of course. When it comes to young grappa, single-varietal grappa is typically made from aromatic varieties such as Muscat or Gewurztraminer. This type of grappa often exhibits aromas reminiscent of rose, geranium, sage, musk, lemon and peach. However, it's important to note that not all varieties behave in the same way. For example, Gewurztraminer grappa may have rose and tea-like aromas, but it won't be as spicy as the corresponding wines.
Grappa made from Muscat grapes is known for its banana-like aromas, in addition to the aromas found in Muscat wines. The best single-varietal grappas showcase high aromatic intensity and overall balance. Semi-aromatic and non-aromatic grape varieties like Glera, Fiano Greco, Muller-Thurgau, Coda di Volpe and Riesling should boast positive but not easily distinguishable aromas.
Other grape varieties, such as Nosiola and Trebbiano, can contribute hazelnut-like notes to grappa. These types of grappa often display herbal, resinous, balsamic and spicy qualities, ranging from grassy and fruity with hints of peach and apple to tobacco or slightly aniseed-like flavors.
Chardonnay-based grappa tends to showcase aromas reminiscent of apple and hazelnut, with a touch of floral scents. Grappa made from Sauvignon Blanc may have a vegetable-like aroma. For grappa without a specific grape variety mentioned, it's advisable to focus on overall balance and evaluate their purity rather than varietal characteristics. These grappas can have an aromatic spectrum ranging from berries to cacao. Negative notes like freshly-cut grass are typically considered undesirable unless they are well balanced with other aromas. The same applies to hay-like notes, except if they have a moldy or earthy quality, as they cannot be improved.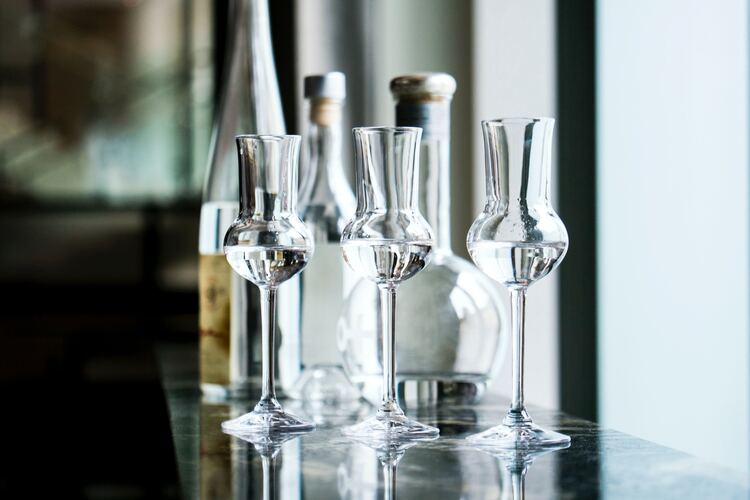 Picture Credit @Connie Perez
T.H: Thank-you for that detailed breakdown. Moving on to aged grappa, could you share the characteristics one should expect from them, and how the aging process influences their flavor profiles?
B.P: Aged grappa should exhibit noticeable characteristics resulting from the aging process, which generally leads to a smooth overall impression. Recently, similar to whisky, grappa has started utilizing a wide variety of casks, such as ex-Port wine, ex-Sauternes, or ex-Sherry barrels.
Aged grappa from aromatic varieties will still retain floral, fruity and herbal aromatics, thanks to a higher concentration of various terpenes, esters and alcohols. These aromas can range from rose, citrus and grassy notes to banana, apple, caramel, peach, grape-like, honey, pineapple, and orange blossom scents. Aged grappa from aromatic varieties should maintain some of the vibrant fruitiness they displayed in their youth.
T.H: It is also essential to address potential flaws in grappa. Could you shed some light on the mistakes made during distillation and the flaws that can be detected in grappa?
B.P: Certainly. It's helpful to provide information about potential mistakes made during distillation and the flaws that can be detected in grappa. A burnt smell in grappa indicates that the pomace inside the 'bain-marie' was burned due to improper filling of the boiler or excessively high temperature. In the case of a discontinuous still with cauldrons, the pressure might have been too high. However, these flaws are more common in illegally distilled grappa than in regulated productions.
Negative smells can also result from poor "head cuttings." Although infrequent, they can have a fresh-cut grass aroma and irritate the throat. Similarly, compounds recognizable by their metallic, greasy and warm smells, as well as their soapy characteristics, are often due to prolonged storage of pomace under unfavorable conditions before processing. A "heavy," "oily," or "rancid" smell can be attributed to mistakes made during the "tail cutting" process.
T.H: Thank you for highlighting those potential flaws. Finally, could you share your thoughts on the regional differences in grappa production and offer any advice for tasters?
B.P: Excellent grappa is produced throughout Italy, primarily in the regions of Friuli, Veneto, Piemonte and Trentino. It's impossible to determine which region produces the best grappa as it ultimately depends on personal taste and preferences. Grappa from Trentino Alto Adige is typically aromatic and delicate, Veneto's grappa is known for its complexity and structure, Piemonte's grappa is both structured and intense, while Friuli's grappa offers aromatic complexity and richness from the diverse grape varieties grown in the region. It's important to remember this wide spectrum when tasting grappa. However, these regions are not the only ones producing grappa.
As for judges, my suggestion is simple: focus on pure and delicate aromas, as well as balance of flavors. This approach will help them understand and recognize the differences among grappas and provide accurate judgments.
T.H: Thank you Bruno for your valuable insight into assessing and appreciating grappa. It has been a pleasure speaking with you today.
B.P: The pleasure is mine. Thank you for having me, and I hope this information proves helpful to all the tasters out there.
Thierry Heins