An introduction to the distilleries and rum manufacturers in Guadeloupe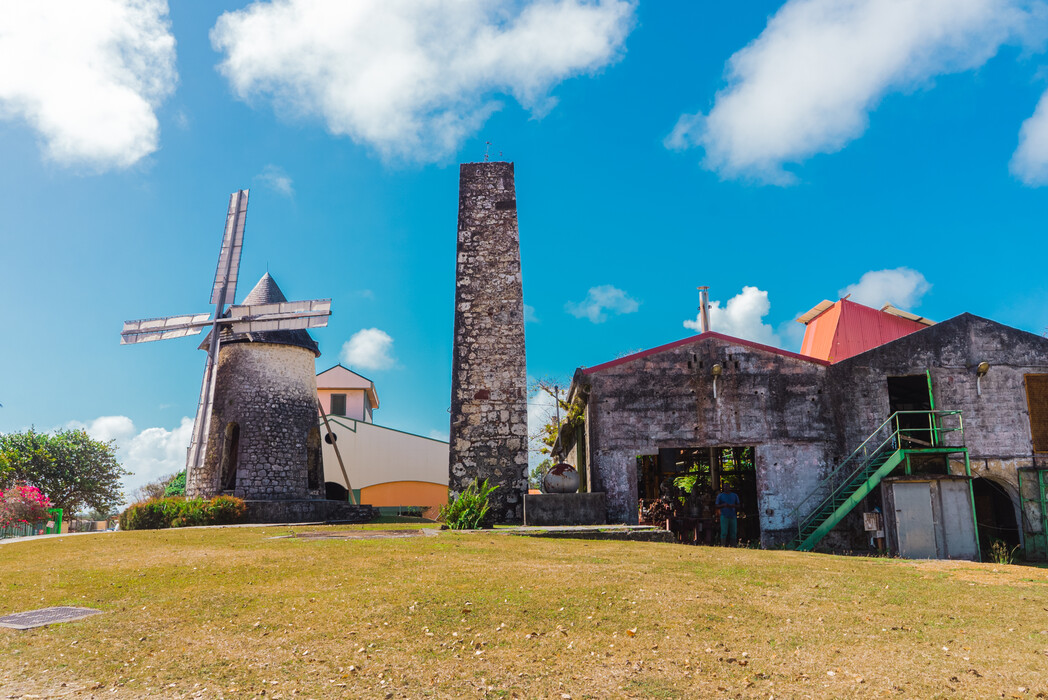 The archipelago of Guadeloupe is located in the French West Indies, north of Martinique and Dominica and south of Antigua. It is made up of six islands with the two main ones – Basse-Terre and Grande Terre – fanning out like the wings of a butterfly. Between them runs a narrow channel, the Rivière Salée. The islands located in the south of the archipelago are Marie-Galante, La Désirade and Les Saintes.
With a footprint of 590 km2, the butterfly's right wing, Grande-Terre, is a limestone plateau which is home to dry plains surrounded by low-lying hills, known as the 'Mornes'. The highest peak stands just 177 metres tall.
Basse-Terre stands out for its elevated landforms and the many rivers and ravines which criss-cross the island. Its peak is the active volcano, La Grande Soufrière, which rises to 1,467 m and is the highest summit in the Lesser Antilles. Its centre is mostly clad with a dense, damp forest. Basse-Terre covers 848 km2.
Marie-Galante is located around forty kilometres from Guadeloupe. It is named after one of the three caravels – the Maria Galanta – sailed by Christopher Columbus, who discovered it. It is commonly referred to as the 'Grande Galette' or big biscuit, due to its landform and its flat shape. It covers a land area of 158 km2.
La Désirade is 2 km wide by 11 km long and is located 8 km from the eastern tip of Grande Terre. The island takes its name from the joy expressed by Christopher Columbus when he discovered the land he had so 'desired' to find, after several months at sea.
Lastly, Les Saintes, situated 10 km south of Basse-Terre, has two main islands – Terre-de-Haut and Terre-de-Bas. Terre-de-Haut boasts a magnificent bay, ranked among the three most beautiful in the world.
The following is an overview of the distilleries and rum manufacturers spread across the three main islands.
Distillerie Damoiseau – Grande Terre – Le Moule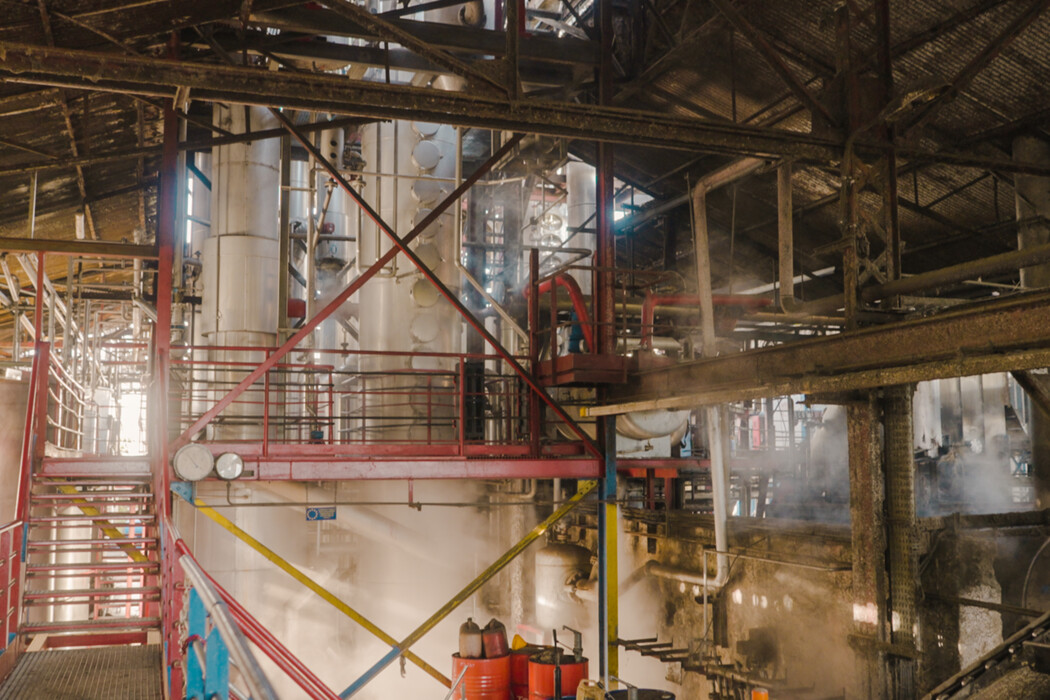 Picture: Francisca Siza for Spirits Selection©
The only distillery located on Grande-Terre, it is home to the Damoiseau family who has been producing white agricultural rums along with blends of agricultural and molasses-based rums to produce mature rums since 1942. Damoiseau farms 58 hectares of sugarcane and sources the remaining 75% of its sugarcane requirements from independent farmers. A total 12,000 tonnes of sugarcane are crushed annually at the Le Moule facilities, yielding 1,500,000 litres of pure alcohol. Twenty percent of production is drunk locally and the main export market is France, which alone accounts for 70% of production.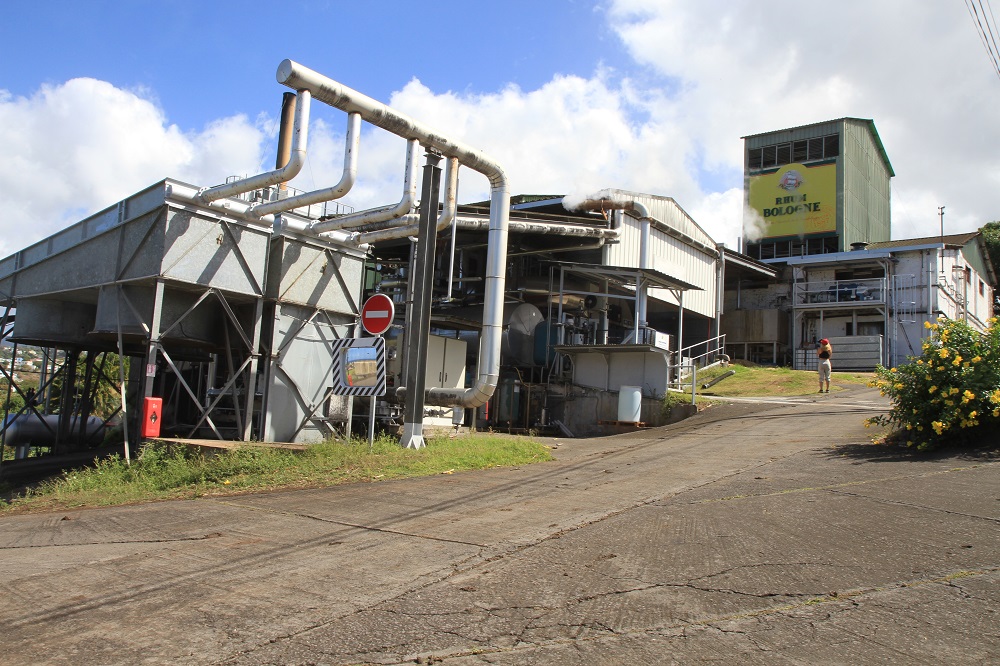 The Bologne distillery has been based on a sugarcane plantation stretching over the slopes of the Grande Soufrière volcano and down to the Caribbean Sea since 1887. Bologne farms 148 ha of sugarcane but also buys cane from independent farmers. It processes 15,000 tonnes of sugarcane a year, producing 94% white rum and 6% mature rum.
Bologne is the only distillery in Guadeloupe that continues to farm black sugarcane on its land. Originating in Barbados, it gradually fell by the wayside due to its low yields. Bologne chose to keep it because it lends their products a distinctive array of aromatics and hallmark stamp.
Bologne is the first distillery in Guadeloupe to release an organic rum, and its 148 hectare of land are certified High Environmental Value (HVE) level 3. It prioritises environmentally-friendly farming.
Bologne markets 58% of its volumes locally, with the rest exported mostly to the French mainland (24% of output).
Distillerie Longueteau – Basse Terre – Capesterre Belle Eau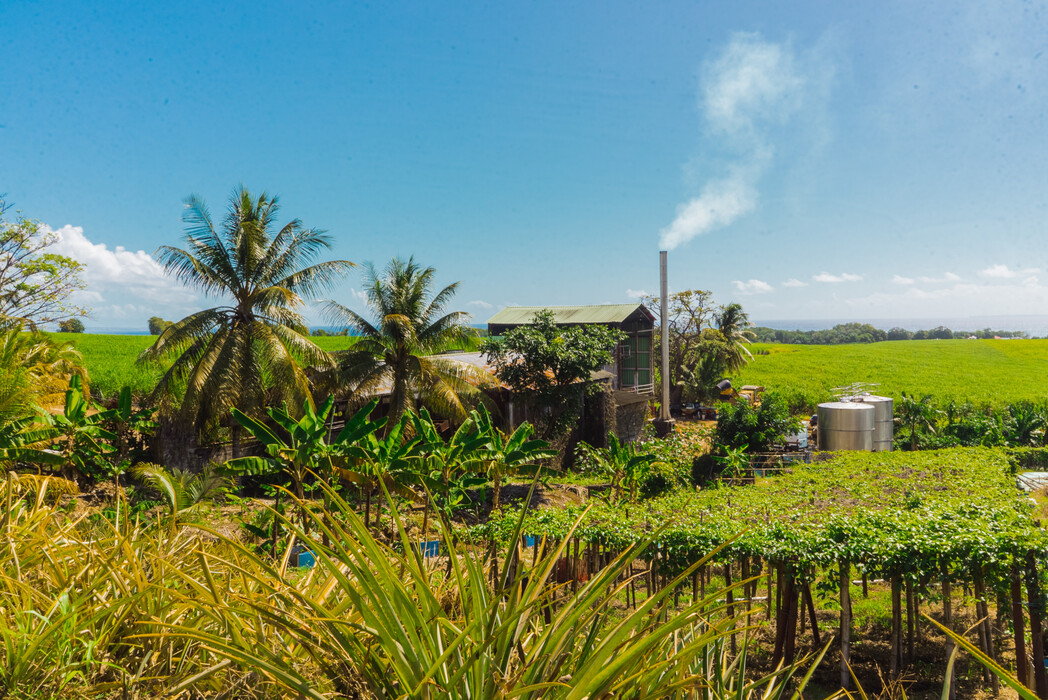 Picture: Francisca Siza for Spirits Selection©
Since 1895, the Longueteau family has been producing agricultural rum on this estate. François Longueteau, the current incumbent, is assisted by his two sons, François and Nicolas, who manage the cellars and distillation respectively. This is Guadeloupe's only 100% self-sufficient distillery, producing blue and red sugarcane that come entirely from plantations at Domaine du Marquisat de Sainte-Marie located at the foot of the Grande Soufrière mountain range. Its selection runs the gamut from white rums, column-strength, mature rums and limited editions to punches and liqueurs which enthusiasts will recognise under the Longueteau and Papillon brands.
The distillery farms 70 ha, producing 7,400 tonnes of sugarcane and 2,500 hl of pure alcohol. 57% of the rum produced is marketed within the archipelago and 38% is shipped to mainland France. The Caribbean, Andorra and Belgium absorb the balance.
Rhumerie Karukera – Basse Terre – Capesterre Belle Eau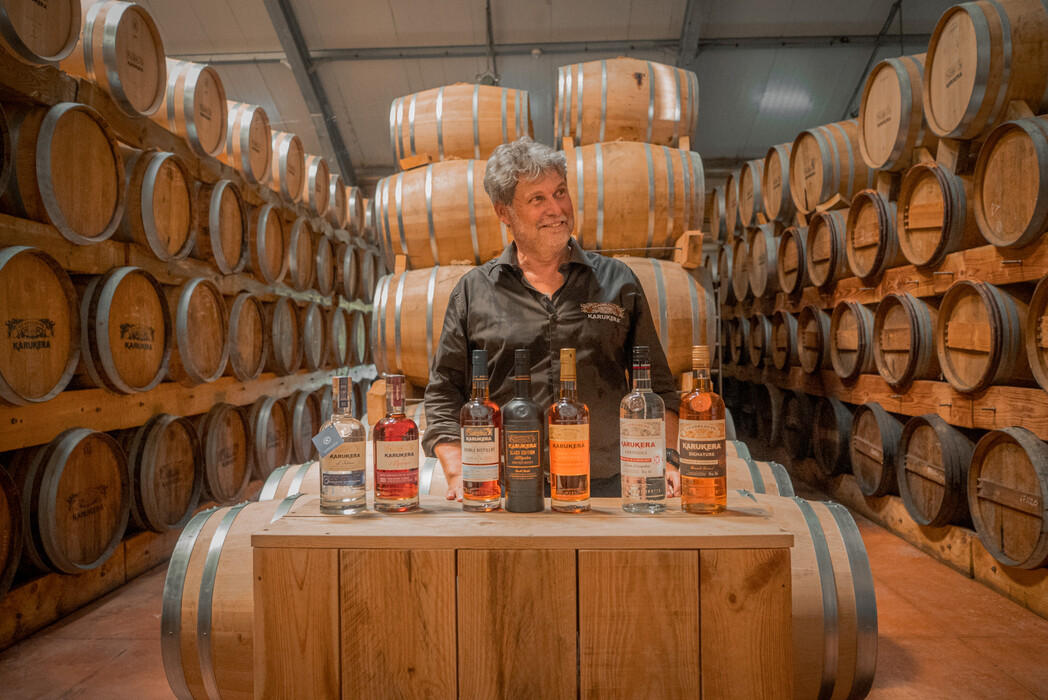 Picture: Francisca Siza for Spirits Selection©
In 2005, at a time when mature rum production in Guadeloupe was still extremely marginal, Grégoire Hayot used the experience he gleaned during his tenure with Jean-Luc Damoiseau modernising the Damoiseau distillery to resurrect the Karukera brand, established in the 1970s. Sensing that developing mature agricultural rums was the way forward, he set out to 'sell' Guadeloupe's image as a provenance-driven rum producer in global markets. He established his rum-making facilities at the foot of the rolling foothills of the Grande Soufrière volcano in the marquisate of Saint-Marie.
Karukera produces white rum and mature rum from distillates that Grégoire Hayot sources from Guadeloupe distilleries. It then handles the maturation and finishing stages defined in PGI Guadeloupe rum production specifications. Marketing volumes total 120,000 bottles annually.
Distillerie Montebello – Basse Terre – Petit Bourg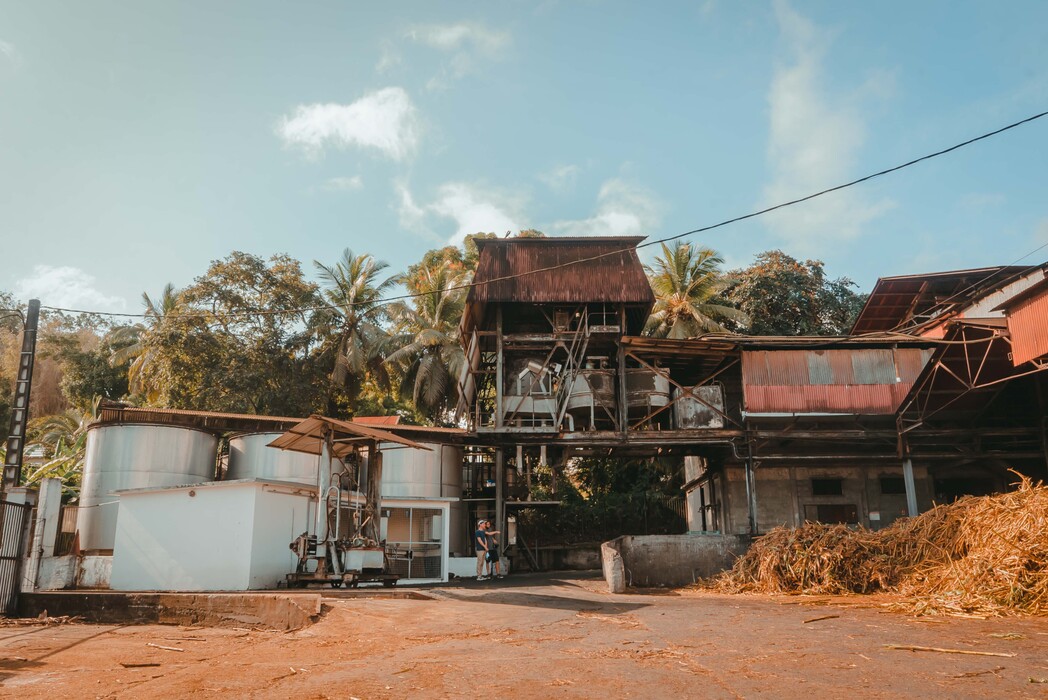 Picture: Francisca Siza for Spirits Selection©
Founded in 1930, the Montebello distillery was taken over by the Marsolle family in 1965. The fourth-generation of family distillers is now at the helm.
One of the distillery's defining features is that it produces rum in the old-fashioned way, despite the higher overheads involved in using traditional methods. The rum season therefore begins between mid-November and the beginning of December, when all the other distilleries are dormant in the aftermath of the cyclone season. From December to the end of February, the cutting machines have yet to spring into action and the sugarcane is cut by hand. Montebello farms 40 ha of sugarcane, with the balance bought from independent farmers. A total 70-75% of its production is made from hand-harvested sugarcane. The distillery crushes 8,000 tonnes of cane a year.
The Montebello distillery is also the only one in Guadeloupe fuelled entirely by steam. Since 2016, Grégory Marsolle has made strides in production of premium white rums, focusing on the choice of varieties and lengthy fermentation times. The inventory comprises 60% white rum and 40% mature rum. Core export markets are located in Europe.
Distillerie Reimonenq – Basse Terre – Sainte Rose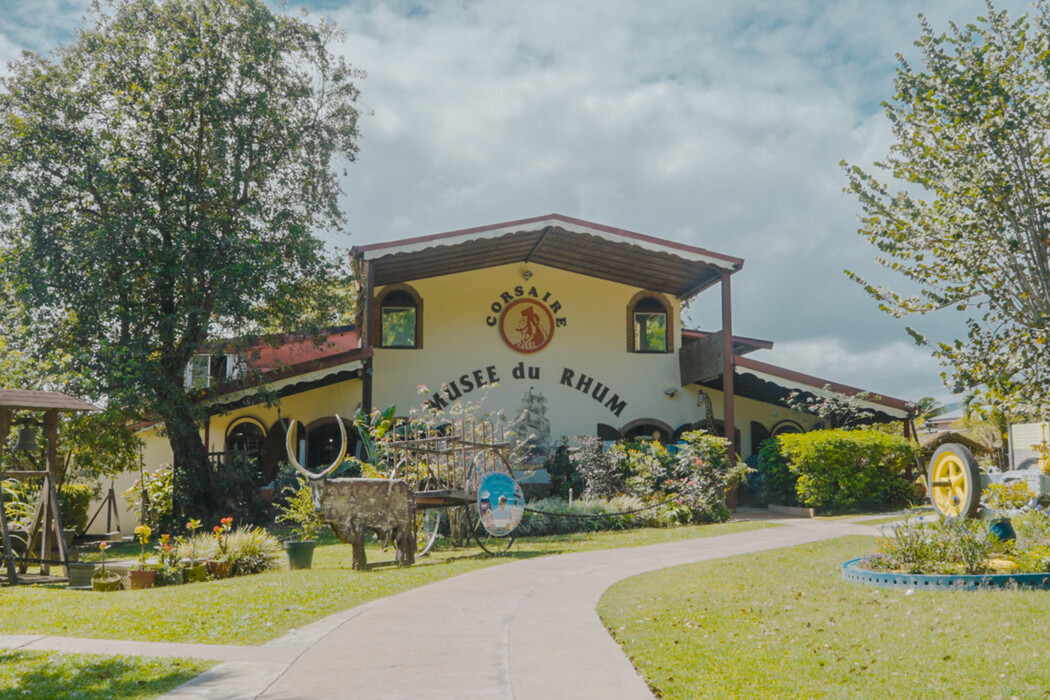 Picture: Francisca Siza for Spirits Selection©
The Reimonenq distillery has been producing rum since 1916. Léopold Reimonenq has skilfully run the distillery founded by his father and his uncle since 1959. During that time, he has constantly innovated and experimented. One of his designs is the heat exchanger on the distillation column which provides incredible control over distillation temperatures. The property owns and farms 20 ha but Reimonenq also buys sugarcane from 70 independent growers. A total 4,300 tonnes of sugarcane are crushed annually, yielding 1,800 hl of pure alcohol.
Léopold Reimonenq still sets great store by the quality of the sugarcane and the fact that it never lies on the ground – a significant amount of soil could undermine the quality of his rums. So he sets up a table in front of the crusher where the freshly-cut sugarcane is placed. The distillery boasts an impressive stock of 2,000 barrels, a proper 'war chest'.
Concurrently with this, Léopold Reimonenq has created a rum museum to promote the history and heritage of Guadeloupe. His collections include ancient utensils for growing sugarcane and producing rum, sailing ships, Guadeloupe clothing and an impressive collection of insects.
Reimonenq's marketing strategy focuses on mature rums. Despite this, white rum is the leading category by volume, but there are fewer white rum labels than are traditionally found in other distilleries.
Guadeloupe continues to be its main market, followed by mainland France, Belgium, Andorra, Switzerland and Italy.
Les punchs Mabi – Basse Terre – Goyave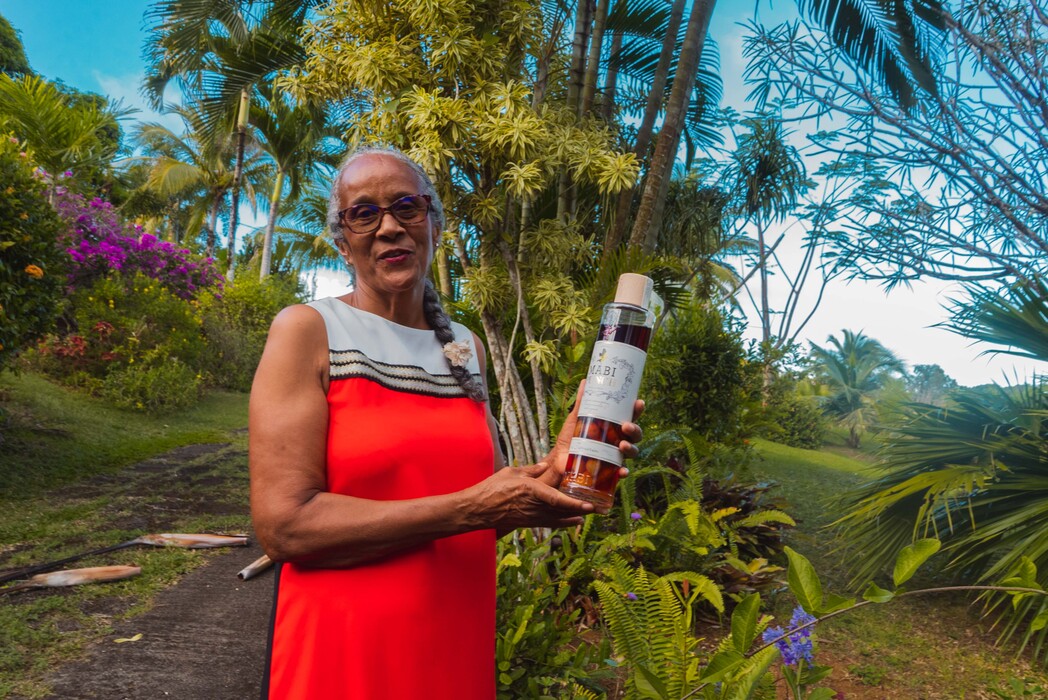 Picture: Francisca Siza for Spirits Selection©
Mabi was founded in 2004 by Marie-Anne Billy and her two daughters Lory and Ludmilla Lurel. Mabi uses locally grown fruits and agricultural rum to produce punches that mirror the Caribbean 'terroir' and showcase the region's traditions and heritage. The local fruits – coconut, mango, passion fruit, star fruit, ginger and apricot, to name a few – macerate for several months, sometimes up to two years, until they fully integrate with the rum and give it its colour, perfume and flavour.
Mabi strives to protect the archipelago's trees, many of which have been felled or are dying. The Mabi tree, the company's emblem, is one of the trees that has been sacrificed. Its bark was once used to make an energy drink.
All the punches are hand-made, at the property. Some of the fruits come from the garden. This dynamic team is driven by a desire to create and to do things well.
Mabi markets 8,000 bottles within the archipelago and ships 12,000 bottles to France and Belgium.
Distillerie Papa Rouyo – Basse Terre – Goyave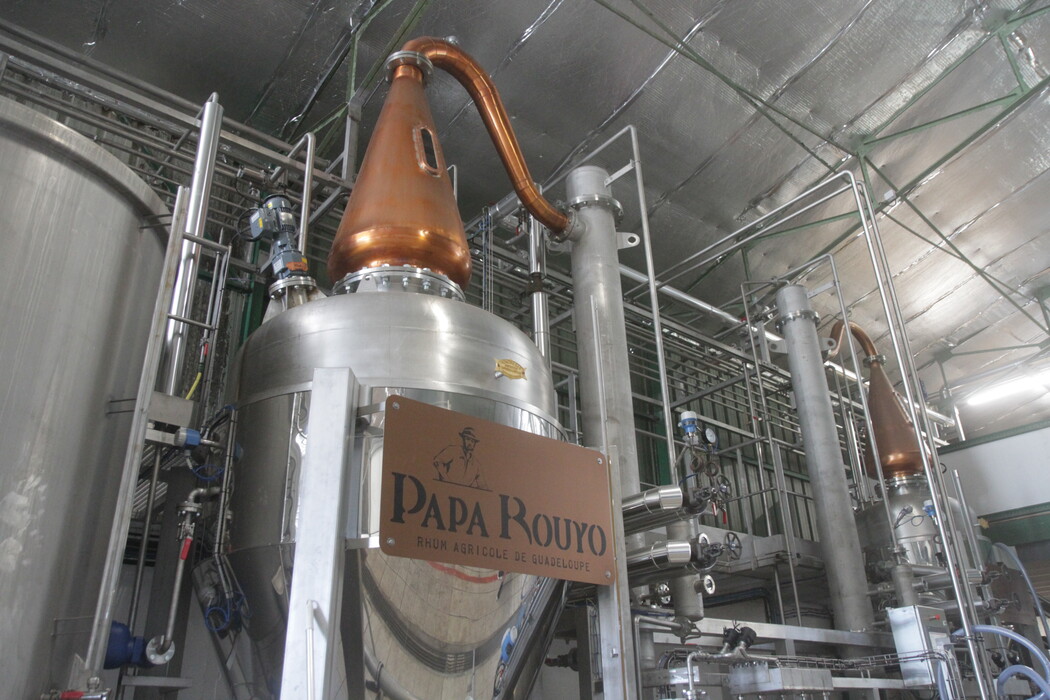 Papa Rouyo is the nickname given to an ancestor of the Galli family, which has ventured into production of authentic rum. Papa Rouyo is the only distillery in Guadeloupe which uses a pot still.
Since 1906, Papa Rouyo farmed a few hectares of sugarcane as a tenant, on land belonging to a prominent manufacturer from the north of Grande-Terre. He bought the agricultural land from the industrialist after years of legal wrangling. In 2018, his grandson, the owner of spring water bottling facilities in Guadeloupe and the local brewery Lekouz, decided to transition from simply growing sugarcane to producing his own rum. He recruited the help of a few experts and installed two pot stills to produce the only pure sugarcane juice rum distilled this way in the archipelago. The entirely automated distilling work shop is equipped with a 2,200-litre wash still and a 1,100-litre spirits still. By sorting the distillation heads and tails as well as the 'seconds', the pot still produces a fatter, unique and novel style of pure sugarcane juice rum. The first white rum, dubbed 'Le Rejeton', was released in 2021.
Distillerie Bonne Mère – Basse Terre – Sainte Rose
Here, traditional rums are made from sugarcane molasses bought from the Gardel sugary refinery in Le Moule and Grande Anse on Marie-Galante. Every year, approximately 22,000 tonnes of molasses are fermented and distilled here. The distillates are used to produce Bonne Mère, Fajous, Negrita, Old Nick and Contrebande rums, but also Madras punches. The distillery belongs to the La Martiniquaise group and boasts an extensive ageing cellar.
Distillerie Bellevue – Marie-Galante – Capesterre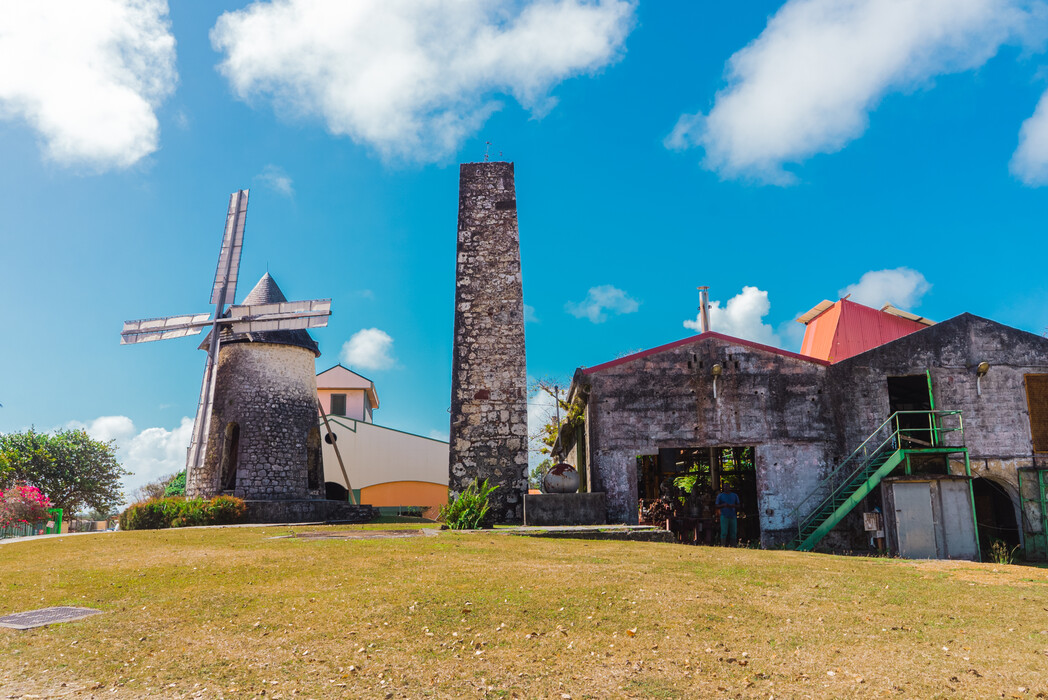 Picture: Francisca Siza for Spirits Selection©
Nestled in the heart of the largest sugarcane estate on Marie-Galante, and adjacent to a superb restored windmill, the Bellevue distillery is the largest on the island. With its sights squarely set on modernity, it is fitted with state-of-the-art, high-performance equipment. Another aspect that sets it apart is its 100% clean production facilities, making it the first eco-positive estate in the Caribbean.
The Bellevue distillery is Guadeloupe's largest exporter, producing in excess of 900,000 litres of rum a year. It belongs to the Martiniquaise group. The distillery's director, Hubert Damoiseau, also produces a range of mature rums under the 'Domaine de Bellevue 1821' label.
Distillerie Bielle – Marie-Galante – Grand-Bourg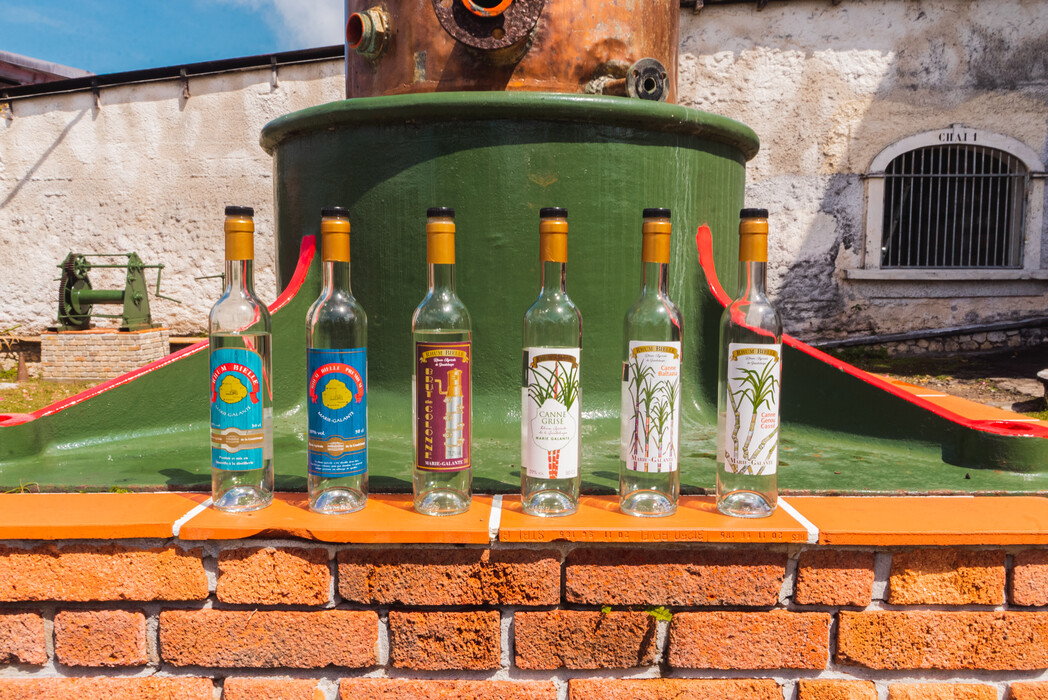 Picture: Francisca Siza for Spirits Selection©
Founded at the end of the 19th century, the Bielle distillery was taken over in 1975 by the Bielle distillery operating company (SEDB), currently managed by Dominique Thiery. The 5,000 tonnes of sugarcane processed are sourced from independent farmers on Marie-Galante. Current production totals 3,000 hectolitres of pure alcohol, equating to just over 495,000 litres at 59% ABV. The distillery produces white rums, mature rums and agricultural rum-based liqueurs. One of its specialities is cask-strength rum. It also makes a white rum from grey sugarcane.
The inventory held in the cellars comprises 60% white rum and 40% mature rum. Bielle markets 85% of its rums in the local market and a balance to export markets including France, Switzerland, Belgium and Japan.
Distillerie Poisson – Père Labat – Marie-Galante – Grand-Bourg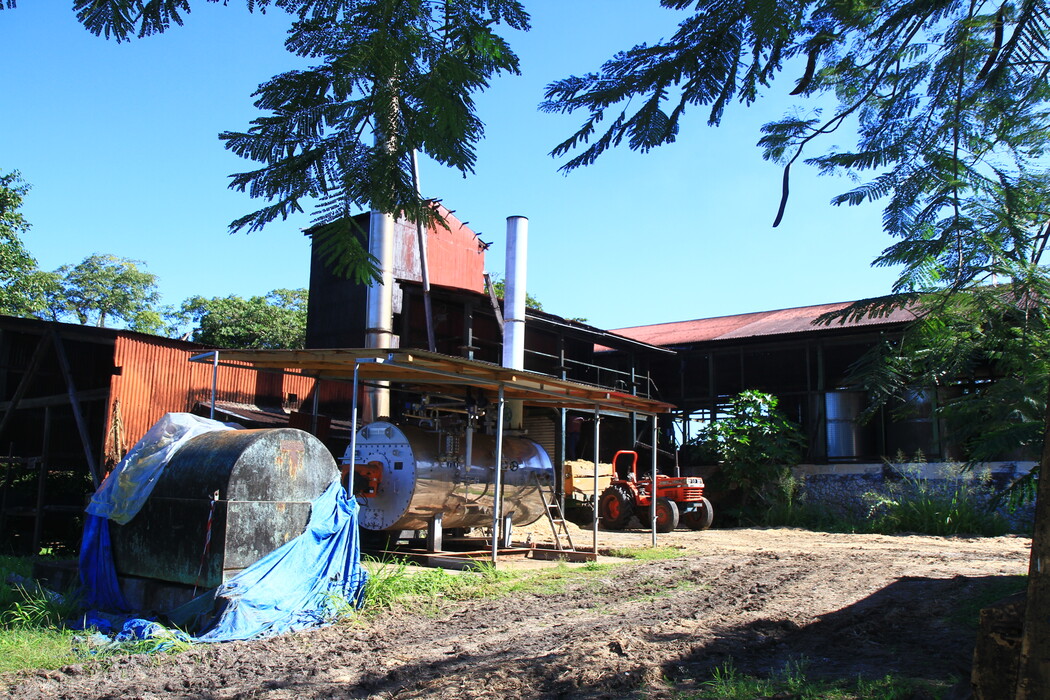 The Poisson distillery produces Père Labat rum. Established in 1860, the estate was originally a sugar refinery, then became a distillery at the turn of the 20th century. In fact, the original copper pot still is still in the factory. This is the smallest distillery on Marie-Galante, producing around 300,000 litres of rum at 59% ABV a year.
Three years ago, the Poisson distillery decided to hive off some of its fields for growing organic sugarcane. Two organically certified white rums with ABVs of 52 and 60% were recently released as limited editions.
Deux sucreries complètent le paysage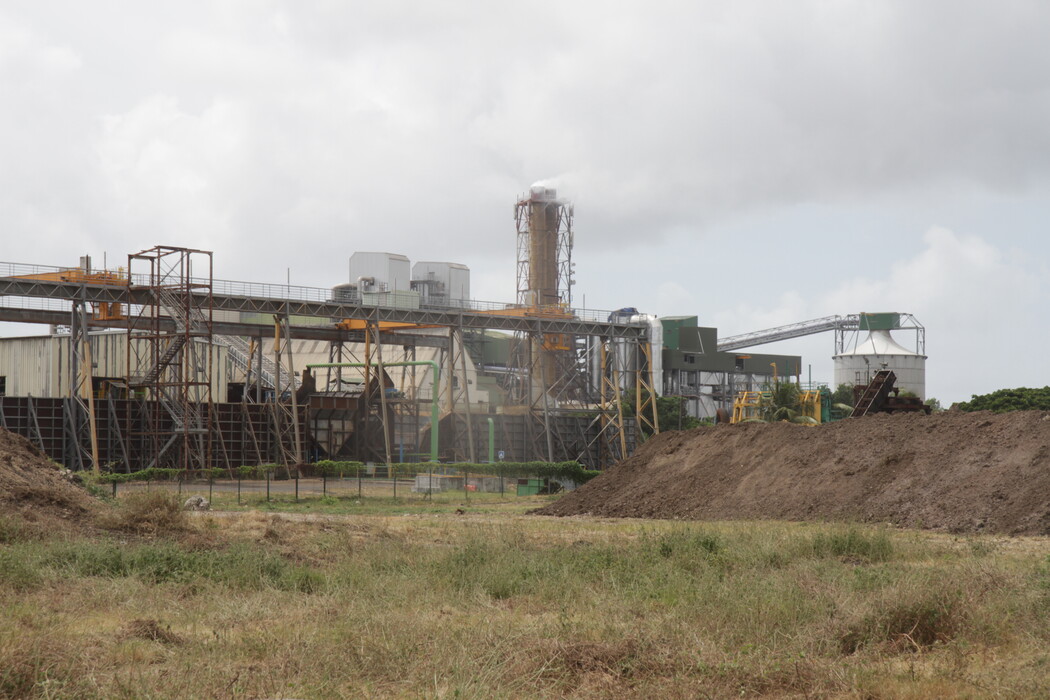 Established in 1845 and located in Grand Bourg, the Grande Anse sugar refinery is a major economic player on the island of Marie-Galante. It processes 100,000 tonnes of sugarcane every year.
The Gardel sugar refinery, which was created in 1870 and is situated in Le Moule on the island of Grande-Terre, produces between 400 and 450,000 tonnes of sugar a year, most of which is exported.
The molasses from these two sugar refineries are distilled by Bonne Mère on Basse-Terre.
Thierry Heins